Cybersecurity Training & Education...
Many traditional cybersecurity training and education methods are outdated and largely ineffective (including eLearning). Even cyber ranges have scalability limitations, in addition to configuration and maintenance headaches. Hands-on labs are based on technical skills, and "CTF" events are also almost always more technical, which often intimidates beginners or those that are less technical in general. How do you increase the value of your courses, training, and events, for a broader, even less technical audience? If you are a student, how do you get the most out of your training? ThreatGEN® Red vs. Blue cybersecurity gamification solves these issues, with the most engaging and interactive cybersecurity gamification available on the market! We have a solution for you...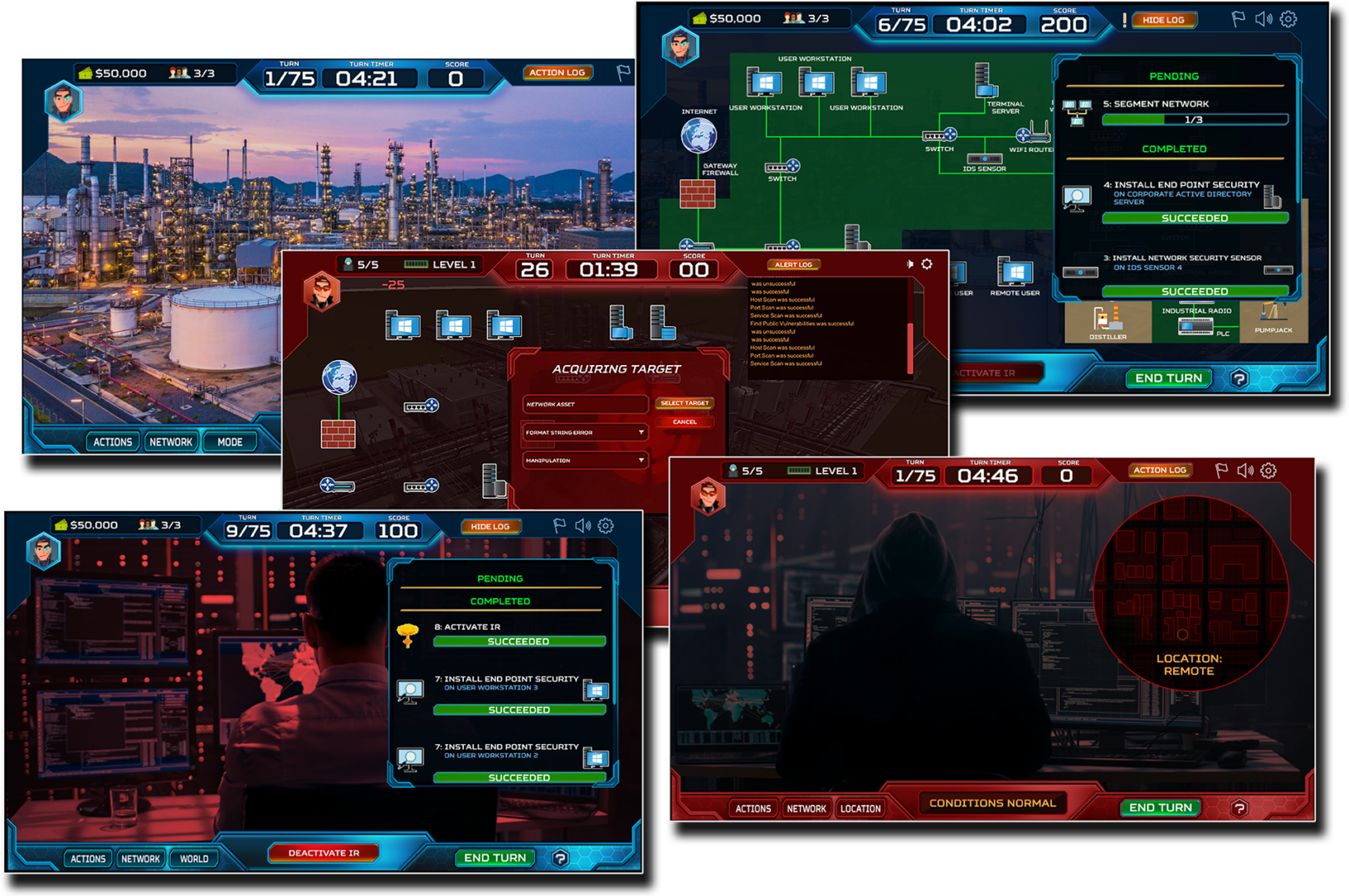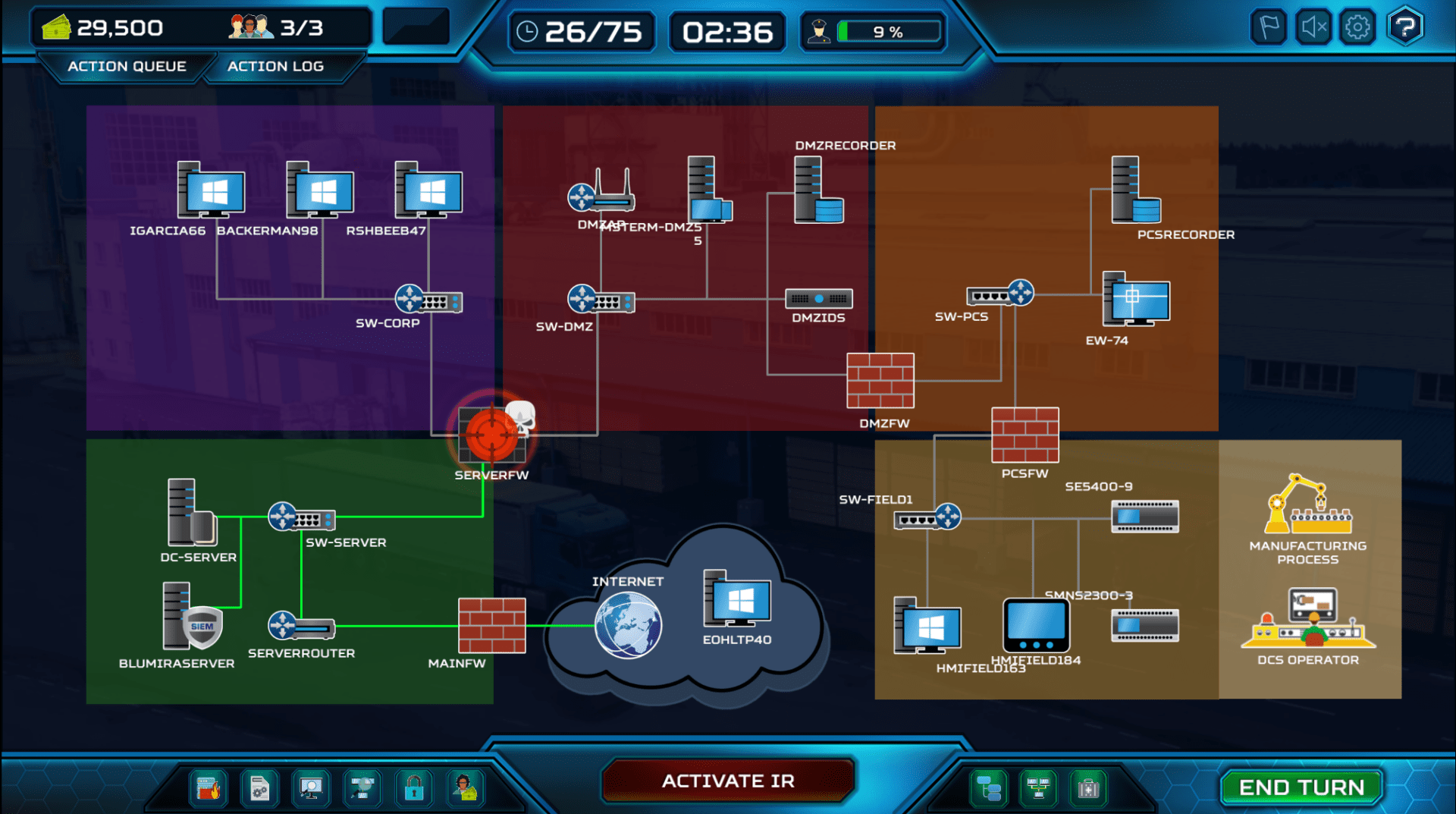 ThreatGEN® Red vs. Blue Cybersecurity Gamification
Take Your Training, Courses, and Events to the Next Level
ThreatGEN® Red vs. Blue is a revolutionary new cybersecurity gaming platform that provides interactive simulations, where students can learn and practice cybersecurity concepts and strategies, through practical application, against an adversary actively working against them, just as it would be in the real-world. It even takes the technical learning curve out of learning cybersecurity, including red team ("hacker") methods and strategies.
ThreatGEN® Red vs. Blue is not a "solve the challenge" style "capture the flag (CTF)". Instead, this is what we consider to be, a true capture the flag. It's an interactive, attack and defend, red team vs. blue team cybersecurity simulation, enabled and enhanced by all the advantages of also being a computer game. Created by world-renowned cybersecurity professionals, and authors the of Hacking Exposed: Industrial Control Systems, Clint Bodungen and Aaron Shbeeb, ThreatGEN® Red vs. Blue takes cybersecurity gamification, training, and events to the next level by using cutting-edge computer gaming technology and decades of real-world experience to create realistic, immersive, and interactive cybersecurity simulations, for students and participants of all levels of skill and experience.
The Cybersecurity Gamification Difference
What does our flexible solution look like?
Education & Training Providers
Increase the Value of Your Courses
with ThreatGEN® Red vs. Blue Cybersecurity Gamification
Our goal is to increase the value of your courses and make them better! The ThreatGEN® Red vs. Blue gamification platform is perfectly suited for illustrating and reinforcing the cybersecurity concepts taught in your courses, from beginner to advanced. Students will gain a broader understanding through practical application, rather than through quizzes and exams alone, and are able to measure their learning progress through immediate feedback. Providing this benefit for more strategic level concepts is especially important, and where the ThreatGEN® Red vs. Blue value really shines through. Traditional training methods do not provide a way for students to measure how well they've created a cybersecurity program, their understanding of how and when cybersecurity controls should be deployed, or how effective their strategies are. ThreatGEN® Red vs. Blue provides this capability and allows you to track and measure their progress through analytics. (Customization is available.)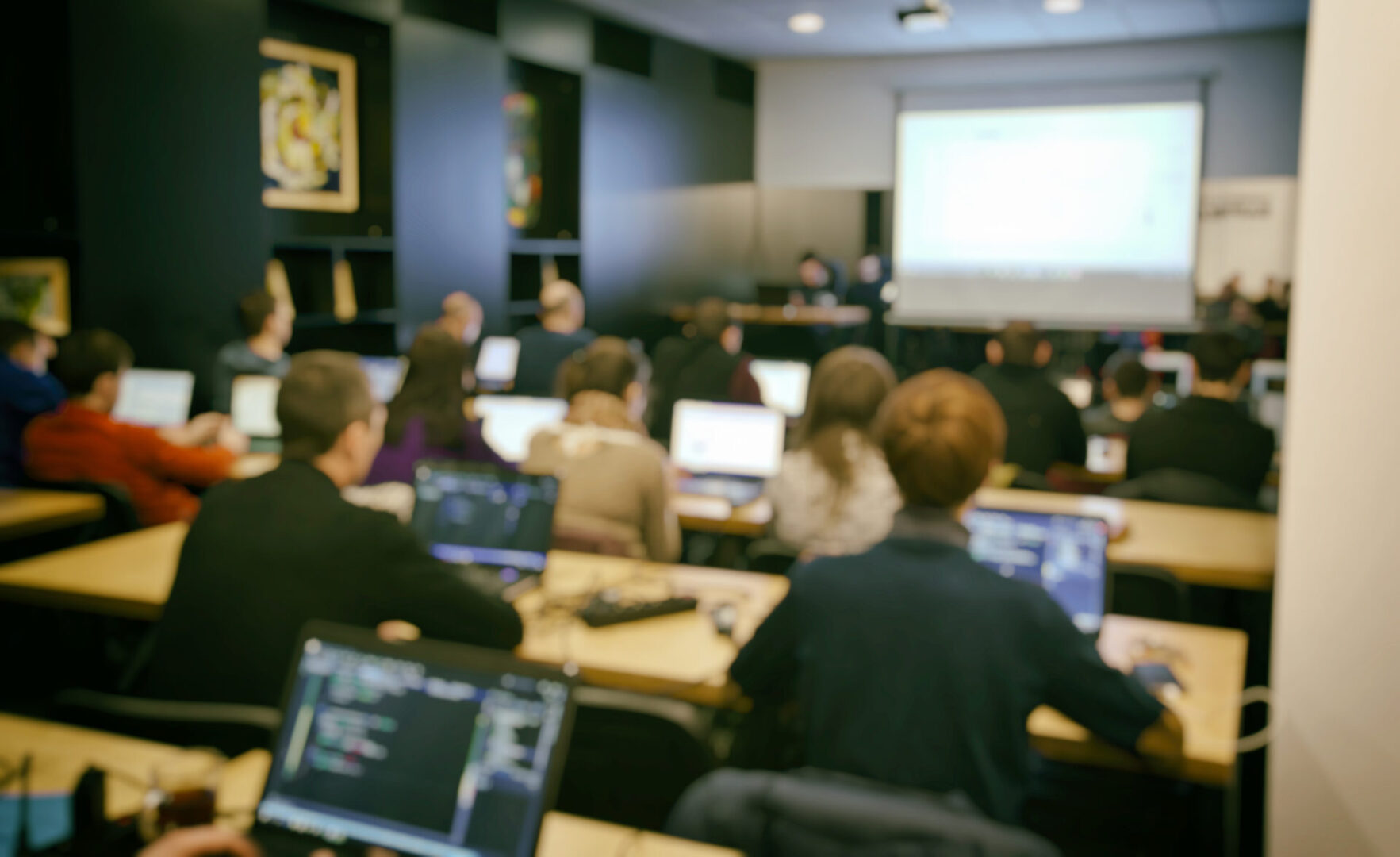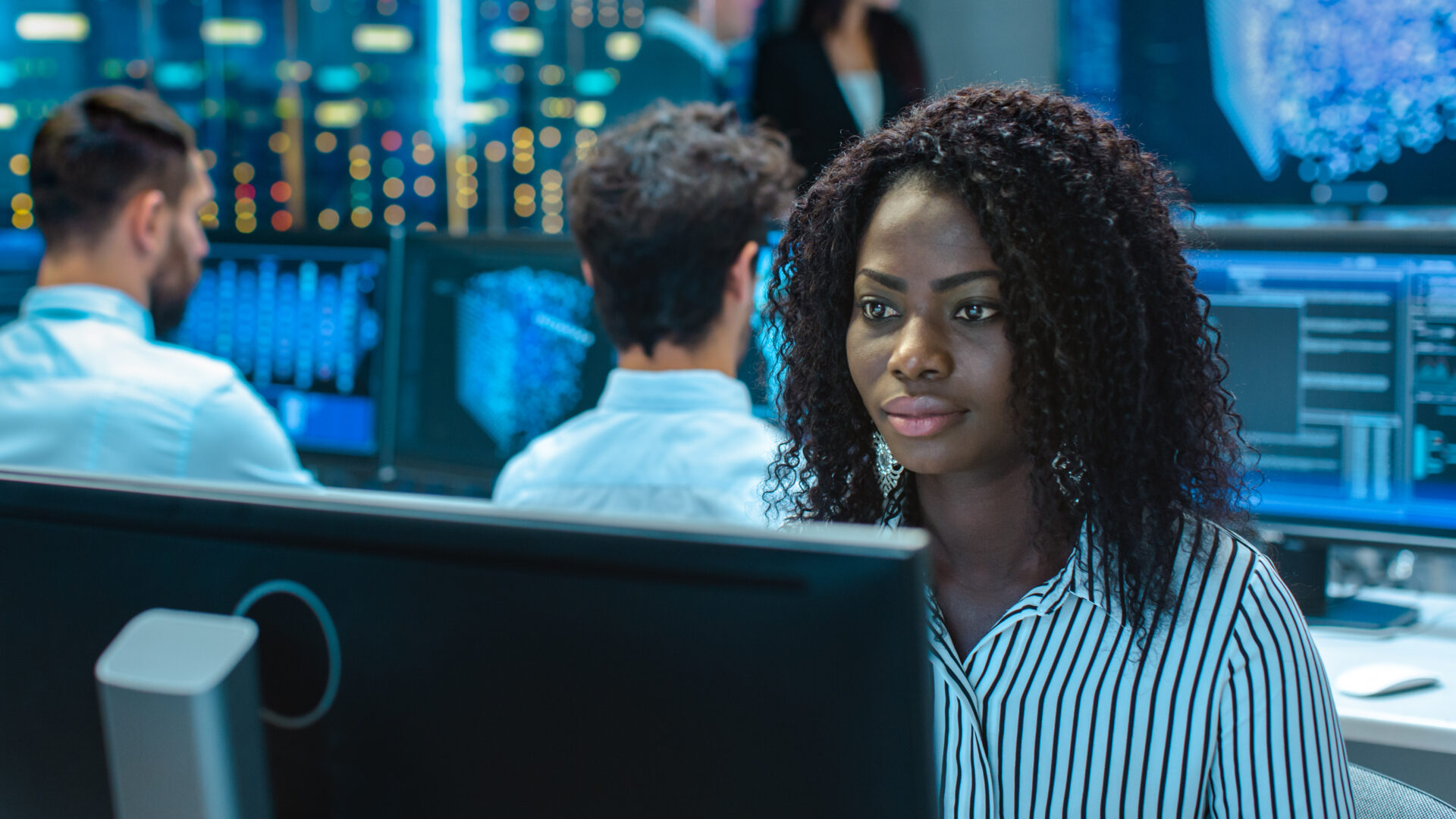 Individuals & Organizations
Maximize Your Training with Cybersecurity Gamification
There are a variety of cybersecurity courses on the market. Unfortunately, outside of exams and real-world experience, there has been no real way to practice and measure cybersecurity concepts and strategic level skills. Until now.
From company classes and workshops to personal skills development, ThreatGEN® Red vs. Blue allows students to "see the big picture" and gain a better understanding of cybersecurity concepts and how everything works together. Students of all levels can practice building cybersecurity programs and develop effective defensive strategies, and see how they measure up against an active adversary. ThreatGEN® Red vs. Blue gamification even makes learning and understanding red team ("hacker") methods and strategies easy for students of all levels, with no prior experience or skills required. (Customization is available for organizations.)
Training Performance Analytics
Maximize Training and Evaluate Performance with Student Analytics
In order to maximize training efficiency and effectiveness, you need to be able to track student performance. When you combine the power of gamification with performance tracking and analytics, you have an unparalleled tool like never before, which will help maximize your cybersecurity training and even your overall cybersecurity program! It is often said that the weakest link in any cybersecurity program is the "human factor". By analyzing and identifying the specific areas where your employees and cybersecurity staff are weakest (not by using multiple choice tests but actual applied application, enabled by gamification), you are able to pinpoint the exact areas where you need to focus your cybersecurity training!
ThreatGEN® Red vs. Blue is the first ever cybersecurity training platform to combine gamification, red team vs. blue team mechanics (active adversary simulation), and performance tracking and analytics, creating the most effective and modernized cybersecurity training method available today.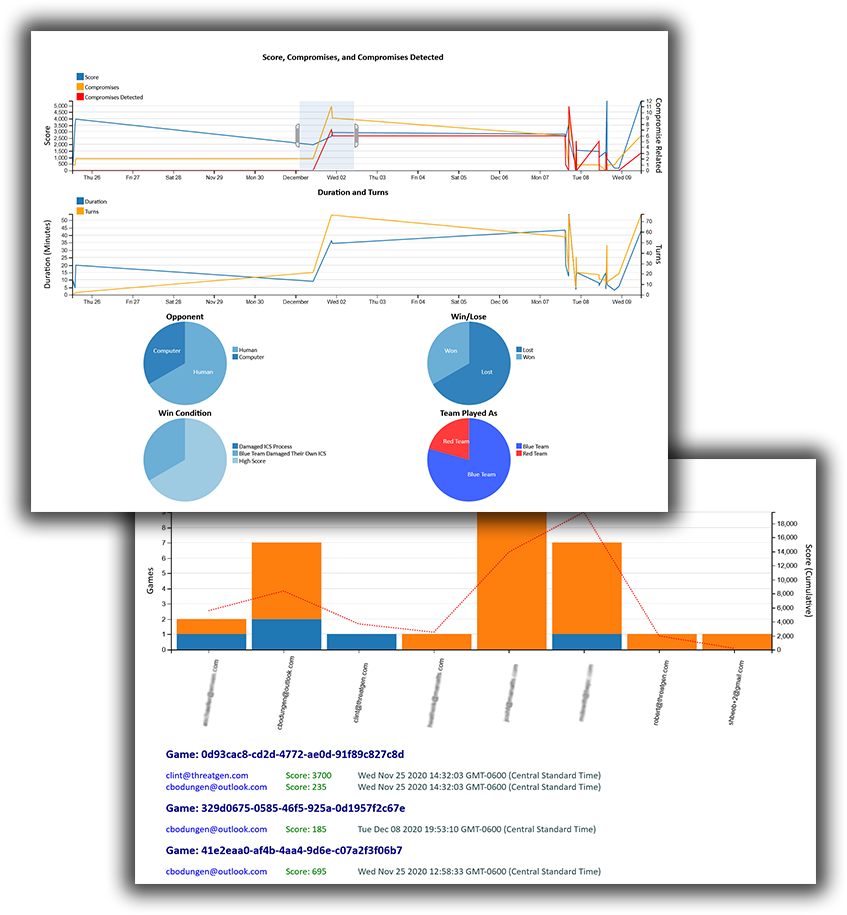 ThreatGEN® Red vs. Blue Resources
What is Red vs. Blue Training?
Security aware and knowledgeable users serve as the "front line" of your overall security posture. As such, training is one of the most essential components of your risk mitigation strategy and overall cybersecurity program. However, without learning cybersecurity from the "hacker's" perspective and gaining a true understanding of how adversaries attack and compromise OT environments and assets, you're only getting half of the picture. Without that other half, you're essentially blindly deploying generic security controls and "best practices".
Layered defense is a great concept, but few organizations have the resources to deploy every layer effectively, and in most case, it still ends up being a waste of resources.
In order to have an efficient and cost-effective risk mitigation strategy, you must understand not only where your vulnerabilities are, but also the tactics that attackers will use to exploit these vulnerabilities. Red vs. Blue Training provides the opportunity to learn these adversarial tactics in conjunction with the defensive methods.
Then, students get to apply the skills they learn as they face off in a head-to-head competition, Blue Team (the defenders) against Red Team (the attackers) - no prior technical skills required! The aspect of competition against a live adversary also helps student realize that cybersecurity is not "set it and forget it." Instead, it provides them the opportunity to develop, and adjust, risk mitigation strategies as an opponent actively counters and modifies their tactics and strategies, in real-time.