Sugar Land, Texas (December 8, 2020) – ThreatGEN, an operational technology (OT) security firm, announces the upcoming release of analytics & reporting, as well as mobile platform support for its ThreatGEN® Red vs. Blue gamification 1.4.1 update. The ThreatGEN® Red vs. Blue gamification teaches, exercises, and evaluates cybersecurity strategic skills, which are nearly impossible through traditional forms of training and testing. The new mobile platform support reaches new audiences, and new features add value to company's and educational institution's cybersecurity programs.
Level 1 Analytics for Player Metrics
The most signification feature being released to the Education, Professional, and Enterprise Edition clients within a week is Level 1 Analytics for user game play, giving administrators game play metrics within their user base. Dubbed "Level 1 Analytics", ThreatGEN captures numerous metrics associated with each individual users' game centrally through its hosted solution. Administrators will have access to game summary metrics within Level 1 Analytics through their company's ThreatGEN Licensing Management Console (TLMC) within the next week:
user statistics (games played with dates, duration, total turns, score, win condition, games won or lost, red team or blue team, games won or lost as each team, human or computer opponent, wins and losses versus each type of opponent, score, successful compromises, and successful detections);
ability to filter by game, team, and opponent type; and
ability to sort by, and easily view, statistics for each match (useful for events, assignments, labs, and competitions).
The Level 1 Analytics reports available through the TLMC will be enhanced in the first quarter of 2021 with the introduction of Level 2 Analytics:
individual cybersecurity category scoring and analysis such as governance, ICS security, physical security, security policy, and cybersecurity strategy; and
expanded statistics tracking such as actions played, research performed, and assets attacked.
Please note, Level 1 Analytics are not available to ThreatGEN® Red vs. Blue Game Edition players.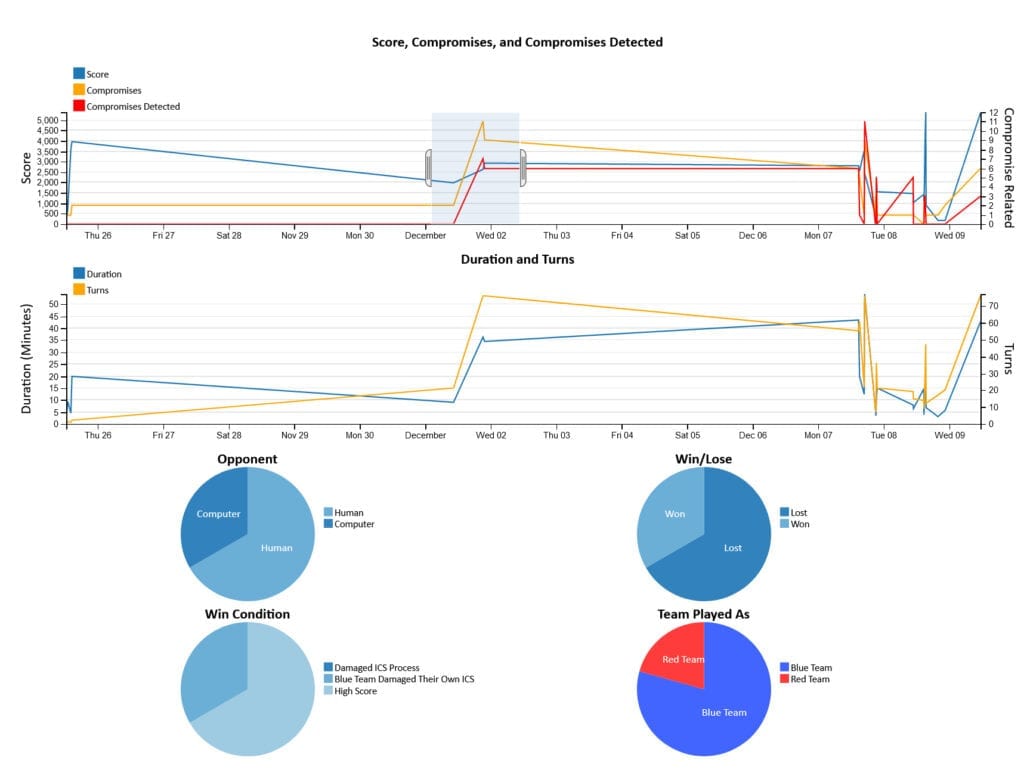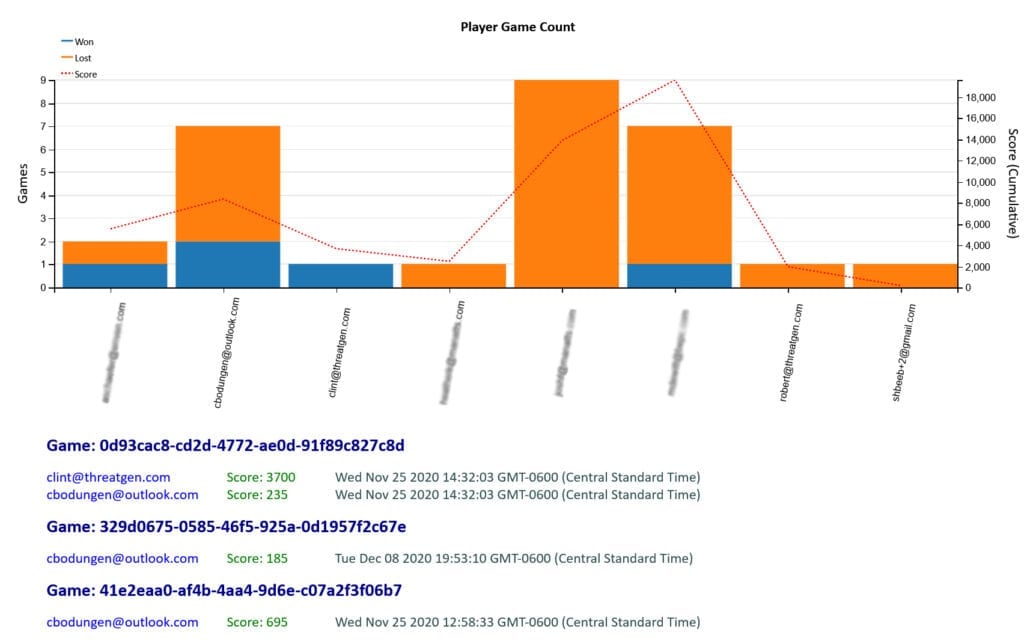 Mobile Platform Support, Statistics and Enhancements Release Notes for Version 1.4.1
ThreatGEN will be releasing an Android version of ThreatGEN® Red vs. Blue Game Edition version 1.4.1 before the end of December 2020. Pricing and general availability through the Google store is still to be announced, but development for the Android Edition has been completed and submitted for Google Play Store final review.
An Apple iOS of the ThreatGEN® Red vs. Blue Game Edition will be released sometime in the first quarter of 2021.
ThreatGEN® Red vs. Blue Game Edition version 1.4.1 will be released in the coming week as well, which synchronizes features and tweaks through all Editions:
1.4.1 Release Notes (Professional Only)
• Added Level 1 Analytics
• Added web caching to improve game load time
• Added CRC to state packets to minimize "out of sync" issues on unreliable network connections
• Added current registered/activated username/email to the settings/about UI
• Added copy/paste functionality to activation input fields

1.4.1 Release Notes (General)
• Adjusted game balanced to reduce disproportionate blue team disadvantage
• Added shield icon legend in red team UI
• Added current resource pool indicators to the action tree UI
• Added copy/paste functionality to all lobby input fields
• Changed the "Tech Inspection" action to "Threat Hunting" and made wiki updates, accordingly
• Changed "Reset" action wording to "Reboot"
• Updated appearance of "Cipher" character
• Minor audio bug fixes and updates
• Minor visual and text fixes and updates

Release notes from ThreatGEN® Red vs. Blue version 1.4.1, all Editions
---
ThreatGEN Red vs. Blue Reseller Program
ThreatGEN has a number of resellers of the ThreatGEN® Professional and Enterprise Edition gamification as well our ThreatGEN courseware already, including:
ThreatGEN will be integrating more closely with its resellers in the coming months as ThreatGEN rolls out changes to its training program, including:
release of ThreatGEN® Red vs. Blue Tournament Edition – providing everything you need host Red vs. Blue tournament events including: player registration, bracket management, automatic results submission, scoring and bracket updating, and more,
release of a ThreatGEN® Red vs. Blue Strategy Guide – crossing over from playing the gamification into real-life cybersecurity best practices and "pro tips" (to be released in first quarter 2021),
providing online versions of our ICS 101, ICS 201, and ICS 301 courseware,
licensing our ThreatGEN Red vs. Blue curriculum in combination with and for remediation of the findings from ThreatGEN® Red vs. Blue gamification Level 1 Statistics, and
licensing our ThreatGEN Red vs. Blue curriculum for live classes through resellers and licensees.
---
About ThreatGEN
Founded in Sugar Land, Texas in 2017, ThreatGEN delivers a solution to bridge "the ICS Cybersecurity skills gap" utilizing its ThreatGEN® Red vs. Blue training and ThreatGEN OT Security Services. ThreatGEN® Red vs. Blue training uses cutting-edge computer gamification in ThreatGEN® Red vs. Blue to provide an exciting & modernized approach to industrial cybersecurity training, both practical and cost effective! ThreatGEN OT Security Services are delivered worldwide by world-renowned Operational Technology (OT) cybersecurity experts (we literally wrote the books industry uses) using strategically chosen partnerships to create a holistic service offering.
For more information, visit our company website at https://ThreatGEN.com, follow us on LinkedIn at https://www.linkedin.com/company/threatgenvr/, or follow us on Twitter at https://twitter.com/ThreatGEN_RvB.
For further sales information, send an e-mail to sales@threatgen.com.
Derezzed Inc. D/B/A ThreatGEN
140900 Southwest Freeway #300
Sugar Land, Texas 77478
+1 (833) 339-6753
#cybersecuritytraining #gamification #cybersecurity #industrialcybersecurity