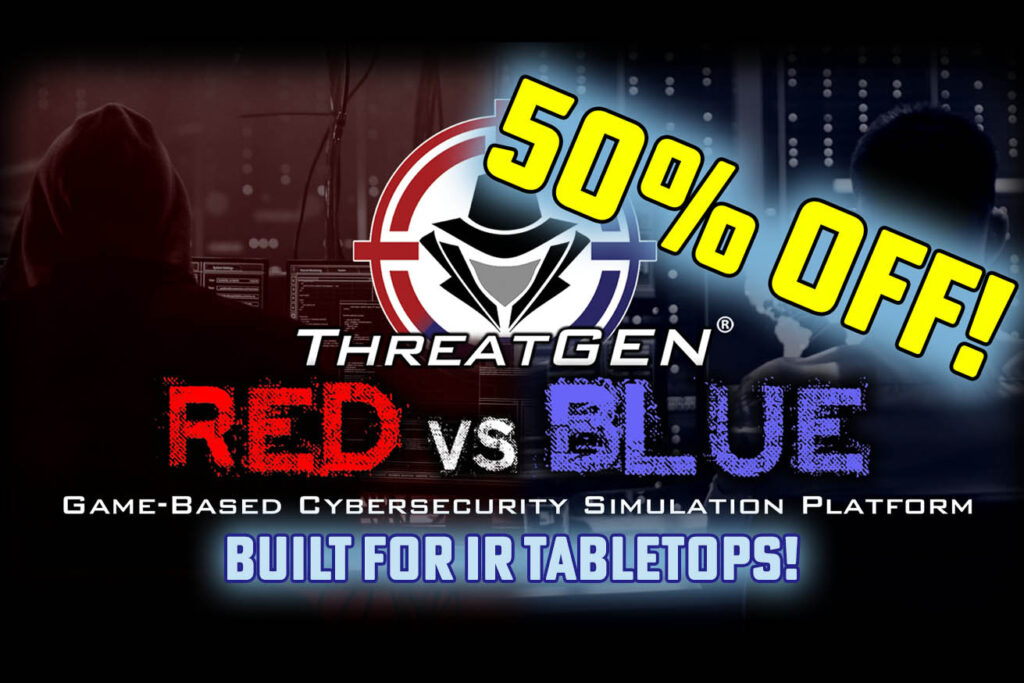 TLDR:
Latest update to ThreatGEN®'s cybersecurity simulation platform introduces new features, actions, and a map editor
Expands network maps and industries
Adds new IR Tabletop exercise scenarios
Fall Kickoff 50% off sale to celebrate the new release (Use Code: WINTERISCOMING) – Offer ends September 30. (*Discount includes all products, but excludes facilitation services)
We are thrilled to announce the latest update to our ThreatGEN® Red vs. Blue Cybersecurity Simulation Platform! And, to celebrate this new release, we're offering a Fall Kickoff 50% sale! (Use Code: WINTERISCOMING – Offer ends September 30). For those unfamiliar with ThreatGEN, we offer a game-based platform that revolutionizes Incident Response (IR) Tabletop exercises. Our solution is designed for all levels of technical skill and experience, from beginners to experts. Gone are the days of paper, slides, and spreadsheets; our interactive, visual environment provides a fully automated, realistic experience, against an active adversary. This latest update takes your training to a new level, offering enhanced features, a brand-new map editor (currently in beta), and much more. Read on to discover what's new and how it can benefit you.
What Makes ThreatGEN® a Game Changer
ThreatGEN® is not just another cybersecurity training platform; it's a game changer for IR Tabletop exercises. Our platform offers an interactive, visual environment that replaces traditional methods with a fully automated experience. With the red team vs. blue team dynamic, you're always training against an adversary that is actively strategizing against you, whether it's a real-life human opponent or our world's first adaptive adversarial A.I. This makes it easier to facilitate and engage in more meaningful training.
New Features and Actions
Our latest update introduces a range of new features and actions designed to make your cybersecurity simulation experience even more immersive and realistic. From fully automated IR tabletop exercises to performance scoring, metrics, and analytics, we've got you covered.
Introducing the Map Editor (Beta)
One of the most exciting additions is our new map editor. Currently in internal beta, this tool enables us to add new network maps and industries, providing you with a broader range of scenarios to explore.
What's New in Network Maps and Industries
Thanks to our new map editor, we've expanded our library of network maps and industries. Whether you're in healthcare, finance, or manufacturing, you'll find a map that suits your needs. If you don't find what you need, reach out to us and submit a request! We love inspiration from our community!
New IR Tabletop Exercise Scenarios
Our update also brings new IR Tabletop exercise scenarios. These are designed to challenge you with the latest real-world threats, keeping your training as relevant as possible. ThreatGEN® Red vs. Blue is the only IR tabletop exercise solution in the world that offers zero setup time, instant scenarios based on the latest threats, and an active adversary that adapts and strategizes against you as the scenario progresses.
Future Plans
While our map editor is currently in internal beta, we have plans to release it to our customers and the broader community. Stay tuned for more updates!
Conclusion
This latest update is a significant step forward in making ThreatGEN® the go-to platform for realistic, immersive cybersecurity training. We're excited for you to experience these new features and look forward to your feedback.
Use Code: WINTERISCOMING
Offer ends September 30