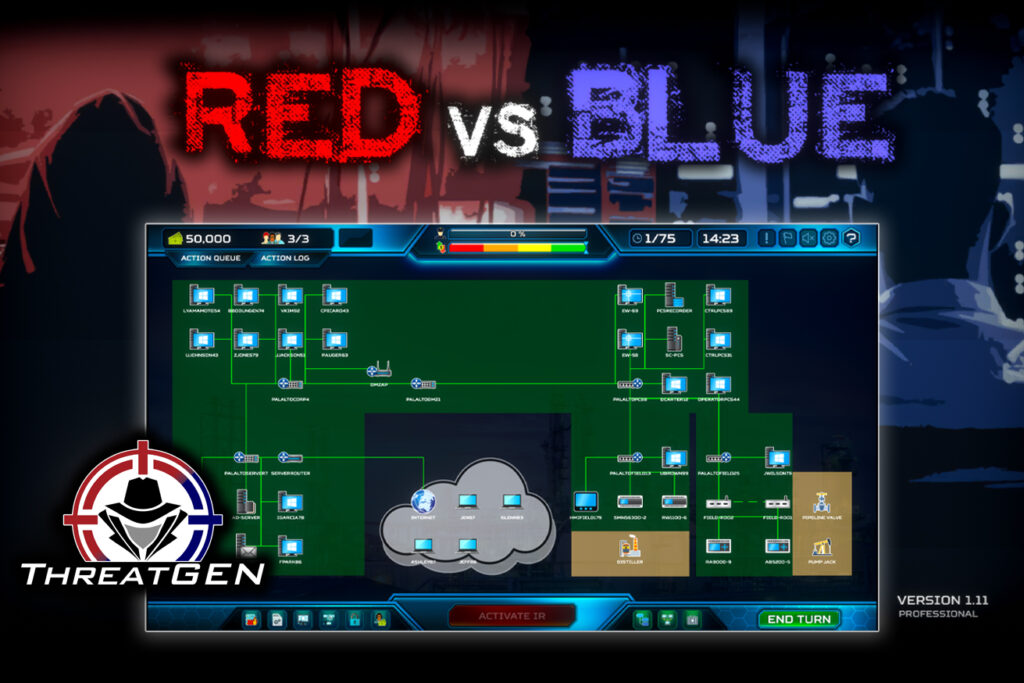 Houston, TX (August 1, 2023) – ThreatGEN®, leaders in cybersecurity gamification and simulation training, announced today the launch of Red vs. Blue version 1.11. This new update introduces highly requested features and improvements that enhance this celebrated cybersecurity training game and IR tabletop exercise platform.
"Version 1.11 represents some of the most exciting updates we've made to Red vs. Blue so far," said Clint Bodungen, Co-Founder and CEO of ThreatGEN®. "Players now have even more expanded strategic options that further enhance an already engaging cybersecurity simulation and gameplay experience. We're especially excited about what some of the new engine updates will now allow us to do going forward."
Key New Red vs. Blue Features
Scenario-based win conditions: Special circumstances now allow for new unique victory conditions that further enhance IR tabletop exercises with real-world threat behaviors and scenarios.
In-game volume control: Players can now adjust sound levels without leaving the game.
New Blue Team and Red Team actions and research options, adding more strategic options for both sides.
Exfiltrating data can now be strategically compiled and weaponized by the Red Team, for greater impact over time.
New Blue Team staff management: Staff costs are now per turn rather than one upfront cost, simulating a more realistic personnel resource cost. Additionally, the Blue Team can now also "fire" staff, for greater control over staff resource management.
Improved post-game analysis and downloadable reports (soon to be further enhanced with AI)
New Red vs. Blue Maps, Content, and Tabletop Scenarios
We've also added an all-new scenario builder currently in beta testing. This powerful tool allows us to rapidly create custom network maps and challenging scenarios to regularly deliver fresh content to players.
The increased scenario creation capabilities also enable us to rapidly update our tabletop exercise scenarios. Players can now regularly practice incident response against emerging real-world threats and current adversary TTPs. With the agility to replicate the latest attack techniques, Red vs Blue tabletop modules will help teams stay sharp and ready to defend against constantly evolving cybersecurity challenges.
Cutting-Edge AI Integration into Red vs. Blue
Soon, Red vs Blue will integrate cutting-edge AI and natural language technology as well. Players can look forward to LLM-powered features such as intelligent post-game analysis to enhance learning and an in-game chatbot assistant to provide real-time guidance.
---
Red vs Blue 1.11 Release Notes
Red vs Blue 1.11 introduces many new features, actions, and bug fixes to enhance the gameplay experience. This release focuses on expanding options for both the Blue and Red teams.
Summary
Version 1.11 provides players with new scenario-based win conditions, the ability to change in-game volume, and updates to damage mechanics for ICS processes. New actions have been added such as lockdown, system auditing, firing staff members, and more. Bug fixes address issues with notifications, gameplay mechanics, AI behavior, and exploits. Overall, this release aims to expand strategic options and improve balance between the teams.
New Features
Scenario-based win conditions that trigger under specific circumstances
In-game volume control accessible from the pause menu
New skill for Red Team: Process Knowledge to improve ICS sabotage success
Accumulate and strategically release exfiltrated data for impact over time
Asset discovery rate now factors into Red Team's score
End of game reports now include starting resources and level
New Actions
Blue Team
Lockdown
System Audit
Fire Staff
External Threat Hunting
Red Team
Create Reverse Shell
Release Exfiltrated Data
Research Critical Process
Damage Critical Process
Bug Fixes and Updates
Fixed notification bugs related to pivots, asset inventory, and more
Improved consistency between asset states in multiplayer
Limited Install Disruptive Malware to non-Linux devices
Better reflected impact of disconnecting assets on dependencies
Corrected issues with AI behavior such as threat hunting, backups, and more
Fixed exploits related to passwords, rogue devices, and remote access
Added missing achievements for various actions
Improved text and descriptions for new actions
Updated the Unity engine
For detailed release notes, visit our Discord server:
---
About ThreatGEN
ThreatGEN® Red vs. Blue is the next evolution in cybersecurity education, training, and IR tabletop exercises. It is a game-based cybersecurity simulation platform that combines the power of an actual computer gaming engine and active adversary simulation A.I., to provide the most practical and effective way for ANYONE to learn cybersecurity, from beginners to experts, and even leadership. It doesn't require any prior technical knowledge or command line skills… not even to play as the red team! Used for cybersecurity education, awareness, training, and IR tabletop exercises, ThreatGEN® Red vs. Blue is immersive, interactive, and hands-on, and it's supported by an education portal with online courses, labs, scenarios, and an online community.

For more information, visit our company website at https://ThreatGEN.com, follow us on LinkedIn at https://www.linkedin.com/company/threatgenvr/, or follow us on Twitter: @ThreatGEN_RvB.
For further sales information, send an e-mail to sales@threatgen.com.
+1 (833) 339-6753
#cybersecurity #gamification #simulation #training #tabletopexercise #redteam #blueteam