ThreatGEN® Red vs. Blue, Version 1.6 Launches with the Cybersecurity IR Tabletop Module  
HOUSTON, Texas (July 13, 2021) – ThreatGEN, a leading OT cybersecurity firm and creator of the ThreatGEN® Red vs. Blue cybersecurity gamification platform, announced today the release of their latest update (version 1.6), and the official launch of the cybersecurity IR tabletop exercise module. ThreatGEN® Red vs. Blue is already being used in more than 60 countries by training providers, educational institutions, commercial organizations, and individuals for a more modernized approach to cybersecurity training and labs. Now, organizations can leverage this same cutting-edge gamification technology to modernize their IR tabletop exercises as well.
"Cybersecurity IR tabletop exercises have been using paper, Excel spreadsheets, and other outdated methods for a long time. These methods have limited effectiveness. Due to the critical importance of tabletop exercises and with the technology available to us today, it's time to modernize the entire approach." said Clint Bodungen, ThreatGEN's co-founder, CEO, and co-creator of ThreatGEN® Red vs. Blue. "Gamification allows a much more immersive, interactive, and, quite frankly, a more entertaining, experience. When you combine that with inherent gamification features and mechanics like automated scoring, analytics, managed scenarios, a repeatable process, and ease of use… a modernized and more effective approach is exactly what you get." he added.
The new tabletop module addition to ThreatGEN® Red vs. Blue offers organizations a completely new and revolutionary way to experience cybersecurity IR tabletop exercises using a customized, immersive and interactive simulation of their own network and systems. It offers the following features and benefits:
Interactive, visual environment – No more paper, cards, or spreadsheets
Customizable and scalable network environments that match your own systems and topologies
Multiple built-in scenarios and "injects"
Easy to use – Point and click, pre-defined actions
Easy to facilitate – Scenarios, rules, and mechanics are managed and enforced by the game engine (no more debating over probability and speculation)
"Facilitator-less", active adversary mode – Play against the computer "AI" for a fully automated exercise, without the need for a facilitator
Automatic performance scoring, metrics, and analytics
For more information about the ThreatGEN® Red vs. Blue gamification platform as well as the tabletop exercise addition, visit:
Professional Edition: https://threatgen.com/red-vs-blue/
Steam Edition: https://store.steampowered.com/app/994670/ThreatGEN_Red_vs_Blue/
Tabletop Module: https://threatgen.com/red-vs-blue/tabletop/
What's in the ThreatGEN® Red vs. Blue, version 1.6 update?
The long-anticipated version 1.6 update is packed with features for improved player experience, replay value, and professional edition enhancements, including the tabletop exercise module. Leading the pack are new environments and content. Players are no longer limited to the same network environment every time they play. They can now select from 3 different environments, with more on the way soon (including non-ICS related environments). This was also a core addition allowing tabletop functionality.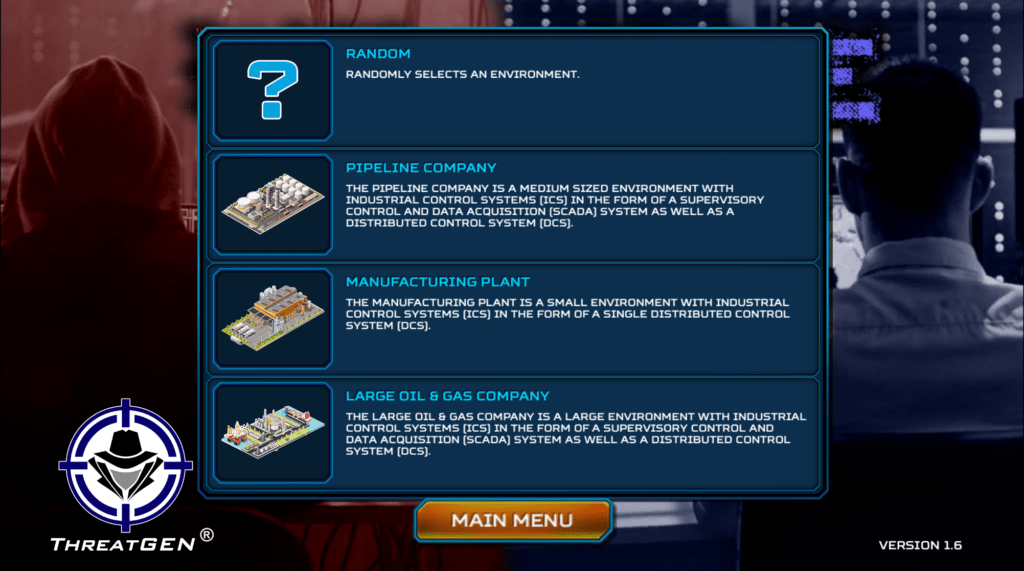 A new mechanic has been added, which allows a new Blue Team win condition, threat intelligence. Gathering forensics evidence now in IR mode increases the new threat intelligence score, which, when high enough, your adversary (the Red Team) will be apprehended for a Blue Team win. The old scoring system has been replaced by a much more useful metrics and stats system, which is displayed and summarized at the end of the game. These analytics are another key element in the tabletop module.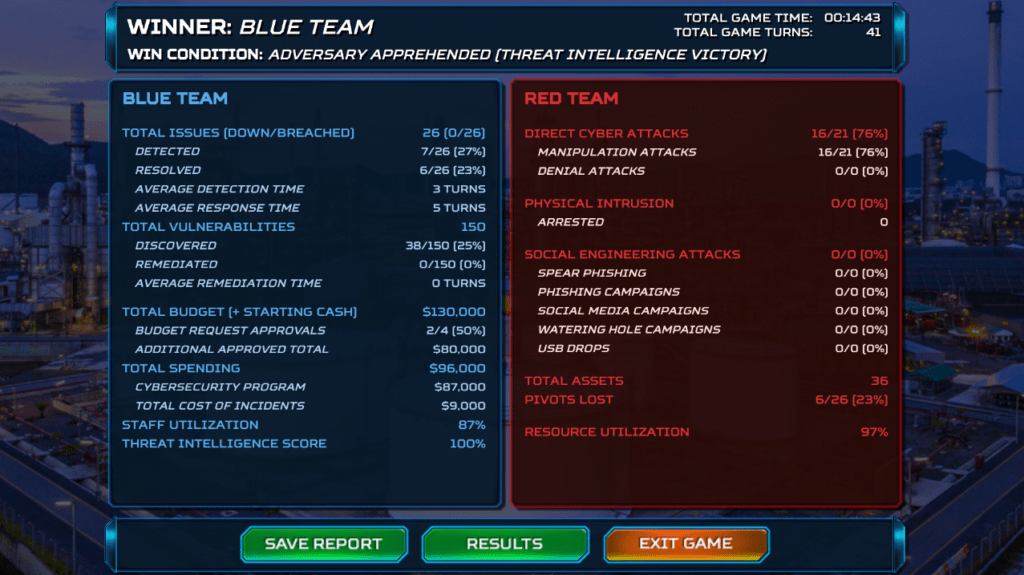 The UI has been updated to allow for playing actions, by category, directly from the network view interface.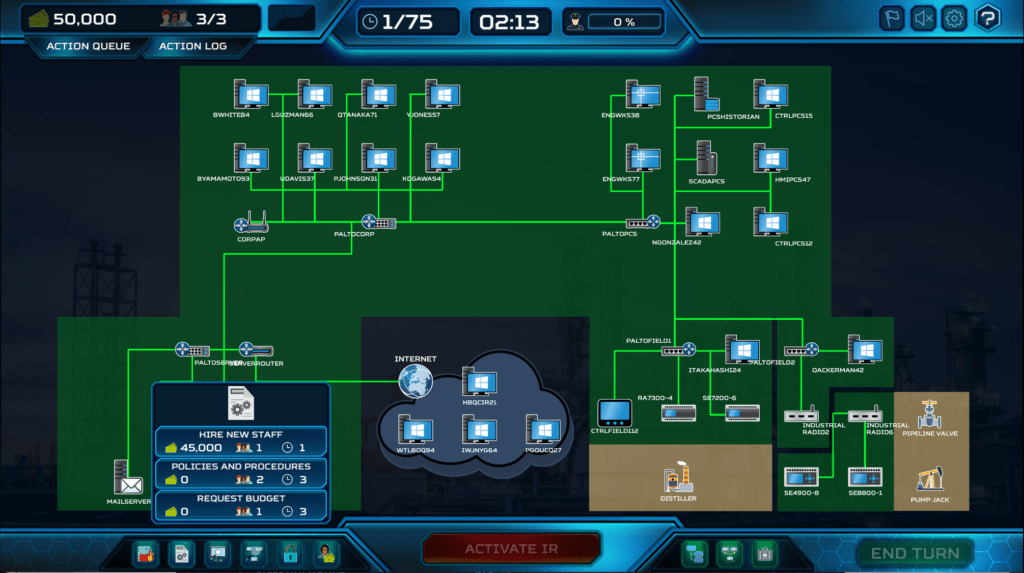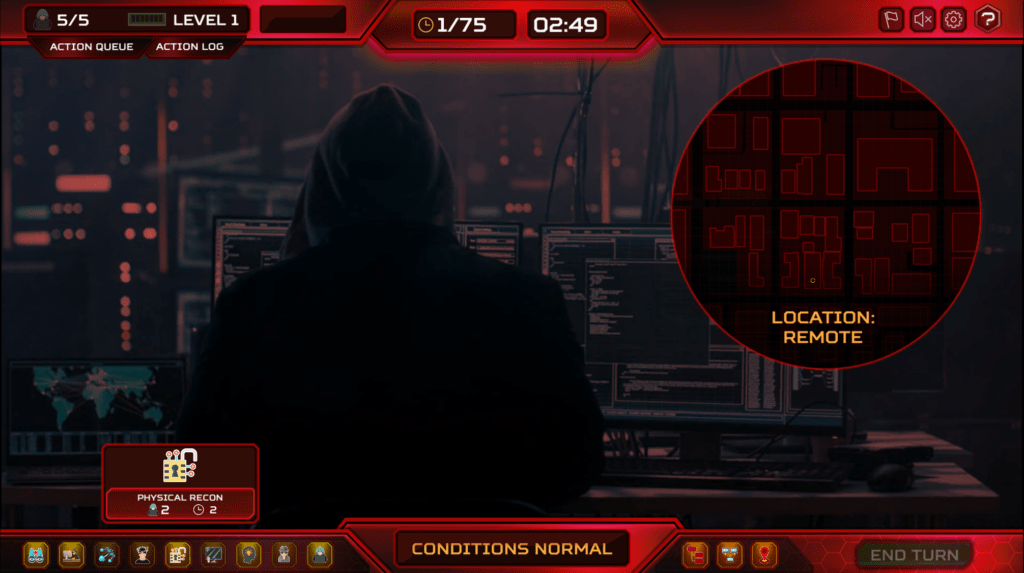 The old Red Team research actions have been upgraded to a skill progression system for each vulnerability/exploit, allowing you more granularity to "specialize" your expertise.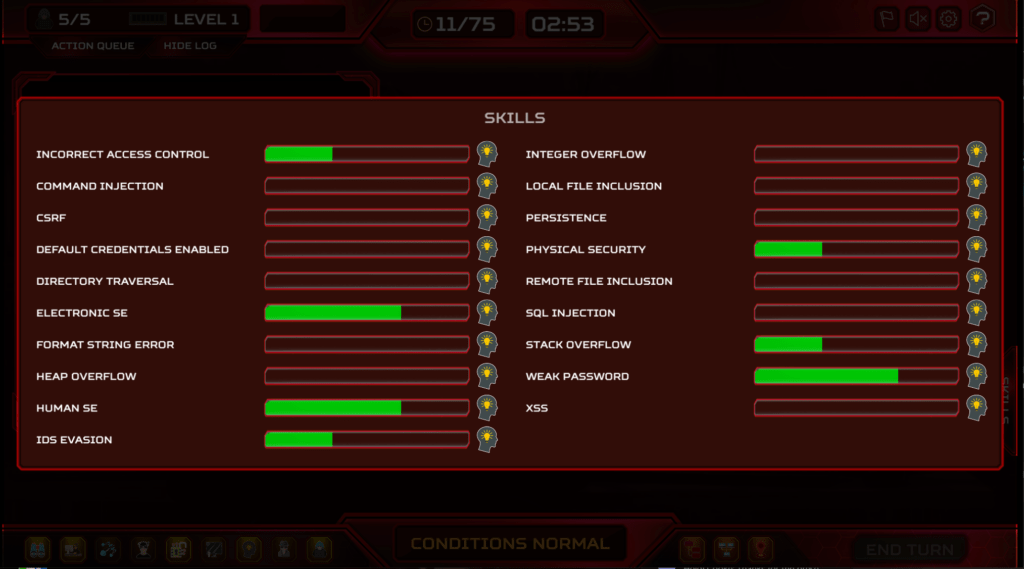 The network connectivity simulation has been improved. Now, when devices that connect to other downstream devices, such as routers, switches, and firewalls, are in a denied/down state, connectivity to those downstream assets are also unavailable. Visually, the connection lines change from green to gray. This means the Red Team can't scan them, can't see them, and can't use them as a pivot. However, network communication also produces its own set of consequences for the Blue Team.
This new feature, along with the ability to customize networks and assets to simulate existing, real-world network environments, customers are able to experience visual and interactive tabletop simulations with topology, systems, and functionality that mirror their own.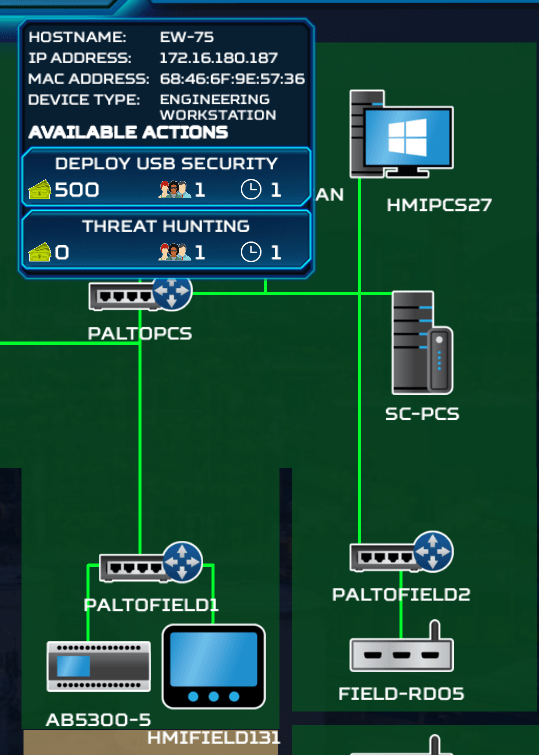 What's in store for the Q3 2021 Updates?
The 1.6 update marked a major milestone that not only provided major visual and functional improvements, but it also laid the foundation for some major upgrades, which will significantly improve long-term value. Here are some of what you can expect to see in this quarter's updates from 1.6.1 through 1.7:
New mechanics that track company profit/loss and reputation during incidents
Level (network environment) selection will be available in multiplayer internet mode
A much-improved network play lobby that will show logged in users, user chat, and more game setting details in the available matches
Scenarios and challenges (levels with specific starting points and/or goals or win conditions)
A more dynamic computer AI opponent with several different tendencies and varying skill levels
More content and networks/levels to play
Downloadable content (DLC)… more details coming soon
And, as usual, we are always trying to improve the quality and value of the simulation experience with new actions, mechanics, adjustments, and other enhancements

---
About ThreatGEN® Red vs. Blue
ThreatGEN® Red vs. Blue is the industry's leading cybersecurity gamification platform, and a more effective, modernized, and revolutionary new approach to cybersecurity education, awareness programs, and tabletop exercises. Created by world-renowned and published cybersecurity professionals, Clint Bodungen and Aaron Shbeeb, ThreatGEN® Red vs. Blue uses cutting-edge gaming technology and decades of real-world experience to create realistic, immersive and interactive cybersecurity strategy simulations. With no prior experience or skills required, players learn, practice, and measure their strategies against an opponent, actively working against them.
Professional Edition: https://threatgen.com/red-vs-blue/
Steam Edition: https://store.steampowered.com/app/994670/ThreatGEN_Red_vs_Blue/
About ThreatGEN
ThreatGEN bridges the "Operational Technology (OT) cybersecurity skills gap" utilizing the ThreatGEN® Red vs. Blue cybersecurity gamification platform and our OT Security Services, both powered by our world-renowned OT cybersecurity experts and published authors. The ThreatGEN® Red vs. Blue cybersecurity gamification platform uses cutting-edge computer gamification to provide an exciting & modernized approach to OT cybersecurity training, both practical and cost effective! Our OT Security Services use our decades of industry experience combined with strategically chosen partnerships to create a holistic service offering.
For more information, visit our company website at https://ThreatGEN.com, follow us on LinkedIn at https://www.linkedin.com/company/threatgenvr/, or follow us on Twitter: @ThreatGEN_RvB.
For further sales information, send an e-mail to sales@threatgen.com.
Derezzed Inc. D/B/A ThreatGEN
14090 Southwest Freeway #300
Sugar Land, Texas 77478
+1 (833) 339-6753

#gamification #cybsersecurity #tabletop
###