Sugar Land, Texas (May 17, 2022) – ThreatGEN is pleased to announce that our Founder, President & CEO of ThreatGEN Clint Bodungen will be presenting the "ThreatGEN Cybersecurity Skills Challenge" at the ElevateIT DFW Technology Summit on May 26, 2022. The Challenge will feature the ThreatGEN® Red vs. Blue cybersecurity gamification platform from 4 to 5 PM CST.
ThreatGEN will also be on hand as a conference exhibitor at ElevateIT DFW, providing all conference attendees with a free 30-day license for our new ThreatGEN® Red vs. Blue Individual Students & Professionals license.
Any ThreatGEN clients can register for the conference, either virtual or in person, and receive free admission using the code "DTS22".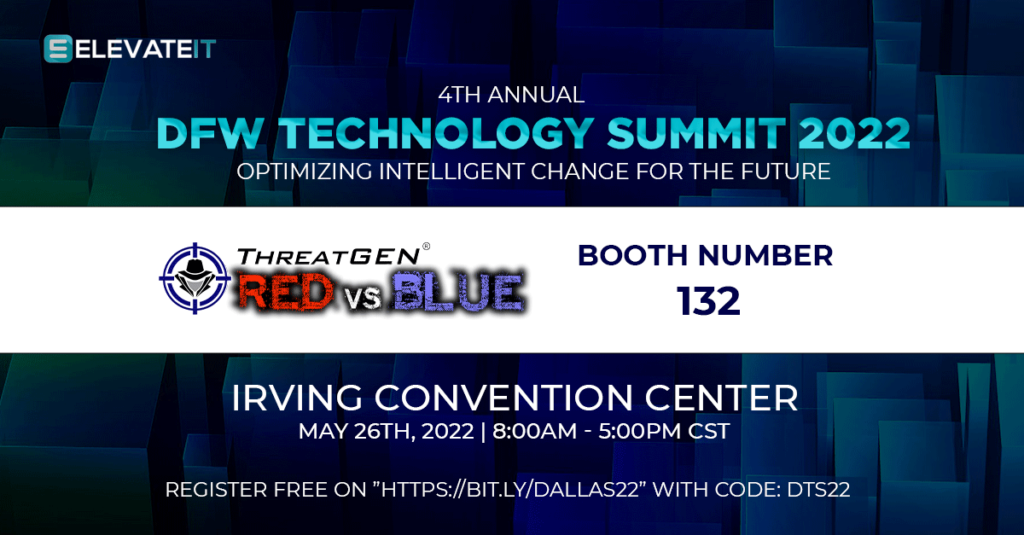 ---
About ElevateIT DFW Event
ElevateIT events act as conduits for career level professionals in the Technology (IT, IS, IoT, OT, etc.) Ecosystem. Fostering learning and growth for leadership and team collaboration, transformation and resilience. The ElevateIT team leverages over a decade of conference experience along with advancements in social media to provide industry leading educational conferences throughout Texas:
ElevateIT DFW Technology Summit 2022
May 26, 2022
Irving Convention Center
ElevateIT HOU Technology Summit 2022
October 13, 2022
NRG Center
---
About ThreatGEN
Founded in 2017, ThreatGEN is "bridging the cybersecurity skills gap" with the ThreatGEN® Red vs. Blue Cybersecurity Gamification Platform. ThreatGEN's founders and staff have decades of experience in real-world cybersecurity as well as course creation and delivery. The ThreatGEN® Red vs. Blue Cybersecurity Gamification Platform combines this experience with game-based learning and our Active Adversary Simulation™ technology to provide the most advanced cybersecurity training solution on the market.

For more information, visit our company website at https://ThreatGEN.com, follow us on LinkedIn at https://www.linkedin.com/company/threatgenvr/, or follow us on Twitter: @ThreatGEN_RvB.
For further sales information, send an e-mail to sales@threatgen.com.
Derezzed Inc. D/B/A ThreatGEN
+1 (833) 339-6753
#cybsersecurity #gamification #cybersecurityconference