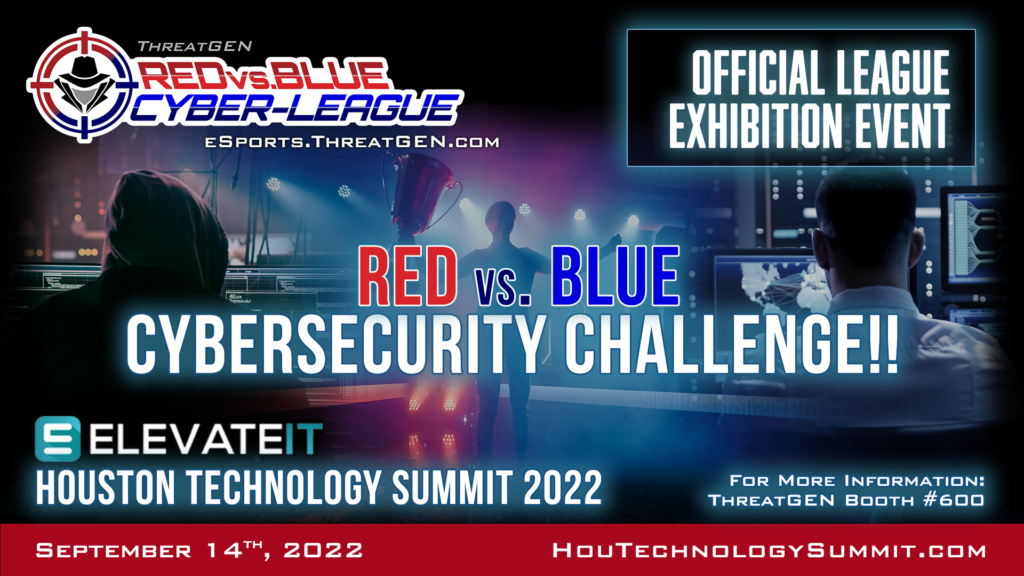 Sugar Land, Texas (August 19, 2022) – ThreatGEN is pleased to announce that our Founder, President & CEO of ThreatGEN Clint Bodungen will be presenting the "ThreatGEN® Red vs. Blue Challenge" at the ElevateIT Houston Technology Summit on September 14, 2022. The challenge event will take place from 4 to 5 PM and will feature the ThreatGEN® Red vs. Blue Game-Based Cybersecurity Simulation Platform, as an official Red vs. Blue Cyber-League Exhibition Match.
Interested in participating as a competitor or a spectator?
Go head-to-head, hackers vs. defenders, against your colleagues in this eSports style red team vs. blue team cybersecurity challenge! Join the red team or the blue team, with NO technical skills or prior experience required! Or, come watch as a spectator! This exciting event will feature two teams of five players. The Red Team (the hackers) will attempt to infiltrate the defending blue team's network to destroy their Industrial Control Systems (ICS)! The players and the audience will enjoy a dynamic eSports style commentary by Clint Bodungen, author of Hacking Exposed: Industrial Control Systems and creator of ThreatGEN® Red vs. Blue.

If you are interested in signing up as a competitor, visit the ThreatGEN booth.
Come by our booth, #600.
ThreatGEN will also be on hand as a conference exhibitor at ElevateIT HOU, providing all conference attendees with a free 30-day license for our new ThreatGEN® Red vs. Blue Individual Students & Professionals license.
Any ThreatGEN clients can register for the conference, either virtual or in person, and receive free admission using the code "TGHOU22".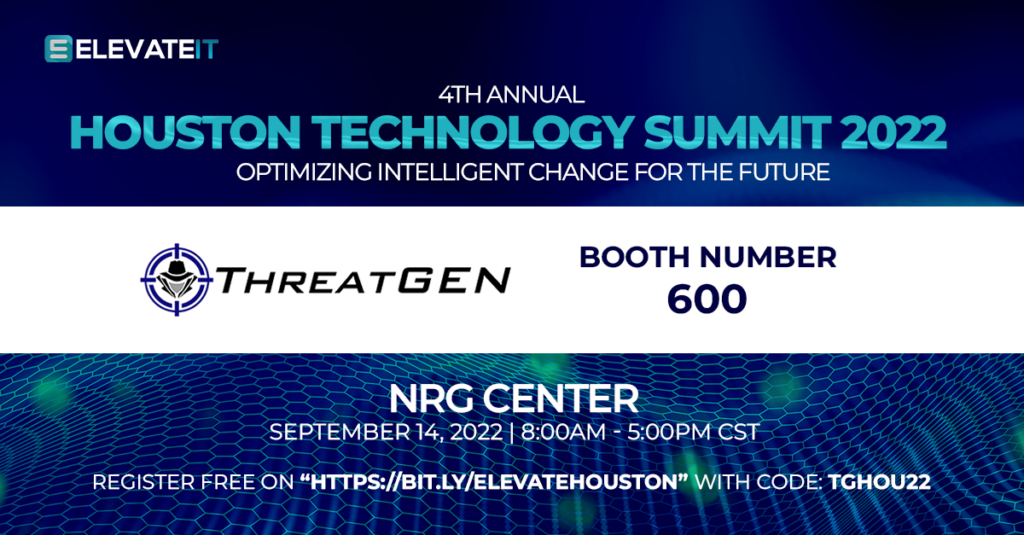 ---
About ElevateIT Houston Technology Summit 2022 Event
ElevateIT events act as conduits for career level professionals in the Technology (IT, IS, IoT, OT, etc.) Ecosystem. Fostering learning and growth for leadership and team collaboration, transformation and resilience. The ElevateIT team leverages over a decade of conference experience along with advancements in social media to provide industry leading educational conferences throughout Texas.
Additional Show Highlights:
8 CPE Credits
15 Educational Sessions
Light Breakfast, Lunch, and Cocktail Reception
40+ Solutions Providers to Tour and Evaluate
Free Parking
Innovative Red Team v Blue Team Challenge – that's ThreatGEN® Red vs. Blue!
$2500 Pre-Paid Visa Grand Prize Drawing
And Much More!
ElevateIT HOU Technology Summit 2022
Register with this link
September 14, 2022
NRG Center, 1 NRG Park, Houston, TX 77054
---
About ThreatGEN® Red vs. Blue – Game-Based Cybersecurity Simulation Platform
ThreatGEN® Red vs. Blue is the next evolution in cybersecurity education, training, and IR tabletop exercises. It is a game-based cybersecurity simulation platform that combines the power of an actual computer gaming engine and active adversary simulation A.I., to provide the most practical and effective way for ANYONE to learn cybersecurity, from beginners to experts, and even leadership. It doesn't require any prior technical knowledge or command line skills… not even to play as the red team! Used for cybersecurity education, awareness, training, and IR tabletop exercises, ThreatGEN® Red vs. Blue is immersive, interactive, and hands-on, and it's supported by an education portal with online courses, labs, scenarios, and an online community.

For more information, visit our company website at https://ThreatGEN.com, follow us on LinkedIn at https://www.linkedin.com/company/threatgenvr/, or follow us on Twitter: @ThreatGEN_RvB.
For further sales information, send an e-mail to sales@threatgen.com.
About the Red vs. Blue Cyber-League
The Red vs. Blue Cyber-League is a competitive cybersecurity league that promotes cybersecurity training and education in a brand-new, fun, and revolutionary way. Matches are head-to-head, where the red team attempts to compromise the blue team's network while the blue team actively defends. The 2023 season will kick off in February, following the inaugural 2022 Invitational Tournament. All official league matches are viewable online (live and recorded). Organizations may also host exhibition tournaments for educational and promotional events.

For more information, visit: https://eSports.ThreatGEN.com
Derezzed Inc. D/B/A ThreatGEN
+1 (833) 339-6753
#cybsersecurity #gamification #cybersecurityconference